Adriana M. Velasquez
Shell Chemicals - Lead Technical Service Engineer
Non-Pressure Pipe and Rotational Molding
Adriana is the lead technical service engineer for Shell's non-pressure pipe and rotational molding applications. An acknowledged leader in her industry, she is Shell's representative in external standards, certification and public safety organizations, including ASTM, CSA, NSF and the Transportation Research Board. Adriana also represents Shell in industry organizations such as the Plastic Pipe Institute, Association of Rotational Molders, and Plastic Pipe and Fittings Association.
Adriana wears different hats as part of the team that is creating Shell's new polymers business. For instance, she is working to select vendors and equipment for the state-of-the-art fabrication lab, where Shell will welcome customers to innovate and try its products. She is also involved in selecting the additives and master batches that will be part of the formulation of the products that will be made at the new world-scale petrochemical facility being built near Pittsburgh, Pennsylvania.

Adriana also leads the development of support solutions, such as software and architecture, for the Shell Polymers Innovation Center. Her work will help the center serve as the technological hub for the polymers business and offer a place for customers to collaborate with Shell in the new Pennsylvania Chemicals facility.

One of Adriana's great passions is preparing younger generations to pursue careers in STEM. She is active in Shell's partnership with Great Minds in STEM. She also acts as a role model and inspires students as a guest speaker at student events. Recognizing the need for talented, well-trained technical workers in the industries growing up around Shell's new petrochemical plant, Adriana serves on the Pennsylvania College of Technology Advisory Board.

Before joining Shell in 2018, Adriana was the application development leader for Dow's non-pressure pipe business and micro-irrigation segments. She also led the development of Dow's marketing plan for the micro-irrigation segment. Additionally, she was responsible for fittings as well as pressure pipe accounts. Adriana represented Dow in several external organizations, including ASTM, CSA, ASABE and PPI.

Adriana began her chemical engineering career in Dow's coatings business, where she worked in manufacturing, engineering and commercial functions. She then joined Dow's plastics business, providing detail engineering for one of the Gulfstream expansion projects. She went on to support the health and hygiene market segment in Dow's technical service and product development organization, where she developed the market technology plan for the elastics platform.

Adriana earned her bachelor's degree in chemical engineering from Los Andes University in Colombia. A resident of Houston, she and her husband Andres have three children: Andrew (age 8), Kevin (7) and Allison (5). Adriana loves dancing to Latin music and does so at every opportunity. She also enjoys cooking and attending her children's many activities.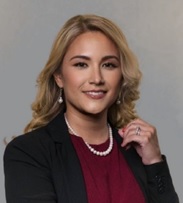 ---